Hello, April! April is also one of the busiest months here at the Taxumo Headquarters. And, you probably know the reason why.
Everyone's scrambling and asking us how to prepare, file and pay for their Annual Income Tax. With this, to help you understand the 101s on filing your Annual Income Tax Return, we created this guide / blogpost.
1.) What is the Annual Income Tax Return (ITR) for?
The Income Tax Return (ITR) that most people refer to is actually the annual tax form that an individual files every April 15th of the following year. This form summarizes all of the income (or loss) you have incurred for the past year. With the new Tax Reform Laws (TRAIN), there are now 3 types of forms available for you to file you annual ITR. Note that all these forms are NEW FORMS that were just recently launched.
Form 1700 – Please use this form if you have no other sources of income other than employment income, and add all employment income and deduct all payroll taxes withheld by employer(s), and pay remaining tax due (if any). This is used by individuals who had two EMPLOYERS within a year thus, you are not qualified for substituted filing (substituted filing means that the Employer files taxes on your behalf).
Form 1701 – Please use this form if the 1) you are a mixed income individual, meaning you are an employee AND also earning income from a business or side profession (ex. consultancy work, freelance writer, etc.) or 2) if you've chosen Graduated Tax rate with an Itemized Deduction Method
Form 1701A – Please use this form if you are earning purely business income or income from your profession. This is a new form released by the BIR for those who chose the Optional Standard Deduction Method (OSD) or opted in for 8% GRT in the previous year
You can also refer to this handy flowchart that we made: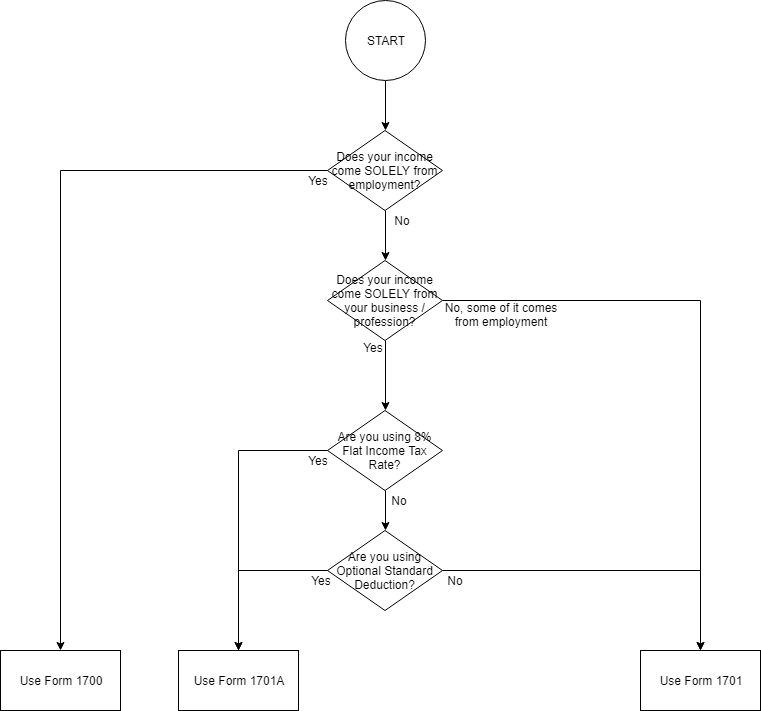 * Note: The Annual Income Tax Return (regardless of form) is just one of a series of quarterly tax forms you have to file. It is highly recommended that you also make sure you file your Quarterly Income Tax Forms aside from your Annual. You can read more about how to do so via Taxumo here.
2.) Do I need to have a COR before I can use Taxumo?
Taxumo does not require you to upload your COR. This means you can already start filing even without your COR on hand.
3.) When can I start using Taxumo for 1701/1701A/1700 Forms?
1701A and 1701 forms are in the system already.
For 1700, you may email customercare@taxumo.com to request for this service. Kindly indicate 1700 Taxumo Service as the subject of your email.
4.) How do I fill out the Fields in Taxumo for these forms?
Make sure that you have created an account in Taxumo. Uploading of the Certificate of Registration and the Signature is not necessary. What is necessary though is for you to have a subscription with Taxumo. Check out our plans and inclusions here: https://taxumo.com/pricing
For those who are new to Taxumo, make sure the you encoded the income and expenses for Quarter 4 of last year. Don't worry, the form will ask you for income and expenses prior to that, too, if you don't want to encode each and every entry in Taxumo.
If you have been a customer of Taxumo since the time you started your business, then you'll have the details automatically shown in the Annual Income Tax form. If you just shifted or will shift to Taxumo, have your past Quarterly Income tax forms by by your side as you fill out the form.
Here is a guide on how to file 1701A:
Here is a guide on how to file 1701:
*Note: For the "Portion of Tax Payable Allowed for Instalment", the 2nd payment (or instalment) could be paid on or before October 2019.
For 1700: We will send you the information that we need via email. Once we receive it, we will prepare and send you back the form.
5.) Do I need to fill out the form in eBIR Forms?
If you use Taxumo, no need to fill out the forms in eBIR Forms. You will be able to access your BIR confirmation in your past filings tab. You will also be able to pay for your taxes using the different payment channels that we have provided. You can then access the copy of your payment record in your past filings tab.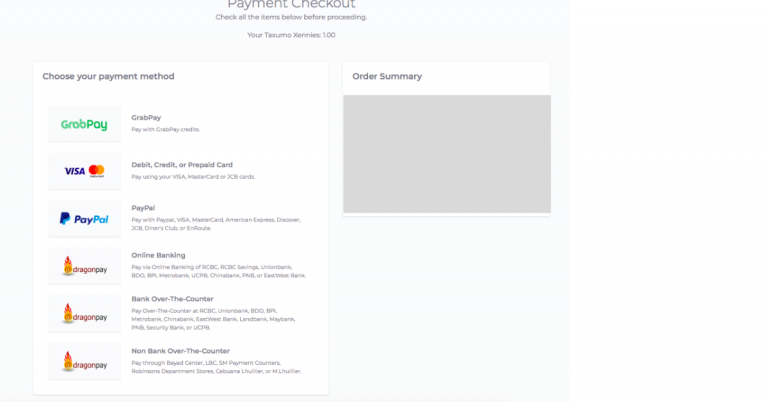 If you have Zero or negative tax dues, no need to pay for anything obviously.
So again, these are the things that you can download and keep a copy of which you can get from your TAX DUES >> PAST FILINGS Tab:
Copy of your filled out tax form (1701A or 1701)
Copy of your BIR Confirmation
Copy of your payment record (if you had tax dues to pay for 1701A or 1701
6. Do I need to have the form stamped?
It is not required (if you are not submitting an Audited Financial Statement or AFS) along with your forms. However, if you really really want to have a "Stamped Form", print out a copy of these forms:
Copy of your filled out tax form (1701A or 1701)
Copy of your BIR Confirmation
Copy of your payment record (if you had tax dues to pay for 1701A or 1701
Request for the SAWT confirmation (from Taxumo) via customercare@taxumo.com and print it out
Collate all 2307 or Creditable withheld tax certificates that you have received
7. How much is Taxumo's ITR Preparation services?
For 1700
Prepare Only – Php 4500 (VAT Exclusive); again please email customercare@taxumo.com for inquiries
For 1701A and 1700
Preparation, filing and payment is included in all subscription plans
8. When do I get a BIR Confirmation?
You will get a BIR Confirmation one week after the Taxumo filing deadlines. Read HERE for more information about the confirmation that you will receive. Note that for "peak seasons" for tax filing, the BIR may send us delayed confirmations, but rest assured that Taxumo will always help follow this up with them. We go the extra mile for our subscribers!
Here are the Taxumo deadlines you have to take note of:
1701 and 1701A – Taxumo's deadline is on April 6, 2020
To be clear, you can still file AFTER these dates — penalty calculations of the BIR will be included though as Taxumo will assume the filing will happen after the April 15 deadline of the BIR.
1700 – Taxumo's deadline for submission of requests and payments is on April 1, 2020
9.) When I use Taxumo for filing and paying for my 1701 and 1701A, when do I know that Taxumo has submitted or filed my form to the BIR?
After you have submitted your tax form via Taxumo, you will see the form's progress in the "Past Filings" tab. This is where you will get the BIR Email Confirmation and the Payment record.
The status will be "Completed" within a week after the Taxumo deadline of filing (A week after April 6, 2020). We highly encourage you to FILE EARLY 🙂
If you have other questions about your Annual Income Tax, please do chat with us by pressing the chat button on the lower right side of this page. 🙂
Happy Filing!