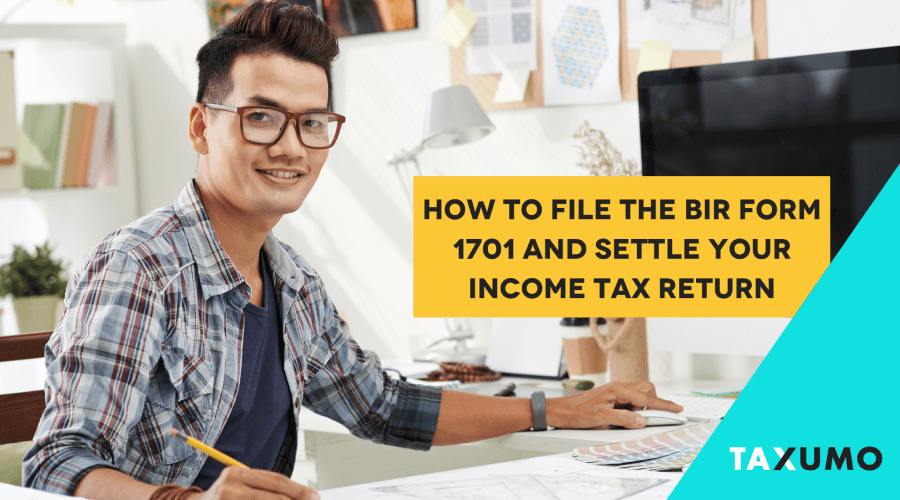 Freelancers and small business owners are not exempt from paying taxes. Just like regular employees, you also have to settle your tax forms, especially the BIR form 1701. The only difference is you need to file it on your own.
But first, what is BIR form 1701?
The BIR form 1701 or the Annual Income Tax Return for Self-employed Individuals, Estates and Trusts shows all the transactions covering the calendar year of the taxpayer.
According to BIR, this must be filed by the following individuals:
1. A resident citizen engaged in trade, business, or practice of profession within and without the Philippines.
2. A resident alien, non-resident citizen or non-resident alien individual engaged in trade, business or practice of profession within the Philippines.
3. A trustee of a trust, guardian of a minor, executor/administrator of an estate, or any person acting in any fiduciary capacity for any person, where such trust, estate, minor, or person is engaged in trade or business.
4. An individual engaged in trade or business or in the exercise of their profession and receiving compensation income as well.
Simply put, freelancers and sole proprietors are required to pay their income tax return. If your annual income is less than P250,000, you are exempt from paying percentage tax and income tax. Still, you need to file your accomplished BIR form 1701 to the RDO.
I earn more than P250,000 per year. How do I compute my dues?
First, let's take a look at the new Income Tax Table under the TRAIN law. Take note that this will be implemented from 2018 to 2022 only. By the year 2023, the rates will go lower.
Now, if you're a non-VAT taxpayer who earns more than P250,000 a year, you have two options with regard to filing your taxes.
Your first option will be to follow the 3% percentage + income tax. The second option is the TRAIN's new 8% Gross Receipt Tax, which is simply multiplying your annual earnings by 8%.
You might be thinking that the second option is easier. However, it's important to know that it's not made for everyone. If your business has low profits and a high cost of sales, the easy road might hurt your business.
Wondering which option fits your business better? Check out our calculator.
How and where do I file my BIR form 1701?
First, you have to fill out the BIR form 1701 in triplicate copies.
According to the BIR, here's how you must accomplish the form.
1. Enter all required information in capital letters using black ink. Mark applicable boxes with an "X".
2. Indicate TIN and registered name on each page.
3. For all questions wherein an appropriate box is provided for a possible answer, mark the applicable box corresponding to the chosen answer with an "X".
4. Required information wherein the space provided has a letter separator, the same must be supplied with capital letters where each character (including comma and period) shall occupy one box and leave one space blank for every word. But if the word is followed by a comma or period, there is no need to leave the blank after the comma or period. Do not write "NONE" or make any other remarks in the boxes.
BONUS TIP: If you don't have time to do this on your own, you can try Taxumo Premium – an all-in-one tax concierge service that can take care of all your tax filings and other tax requirements.

What are the required attachments?
Here are the documents that you need to submit together with your BIR form 1701.
1. BIR-Accredited Certificate of independent CPA (The CPA Certificate is required if the gross quarterly sales, earnings, receipts or output exceed P 150,000).
2. Account Information Form (AIF) and/or Financial Statements (FS), including the following schedules prescribed under existing revenue issuances which must form part of the Notes to the Audited FS: taxes and licenses and other information prescribed to be disclosed in the notes to FS.
3. Statement of Managements' Responsibility (SMR) for Annual Income Tax Return.
4. Certificate of Income Payments not subject to Withholding Tax (BIR Form No. 2304).
5. Certificate of Creditable Tax Withheld at Source (BIR Form No. 2307).
6. Certificate of Compensation Payment/Tax Withheld (BIR Form No. 2316).
7. Duly approved Tax Debit Memo, if applicable.
8. Proof of prior years' excess credits, if applicable.
9. Proof of Foreign Tax Credits, if applicable.
10. For the amended return, proof of tax payment and the return previously filed.
11. Summary Alphalist of Withholding Agents of Income Payments Subjected to Withholding Tax at Source (SAWT), if applicable.
12. Proof of other tax payment/credit, if applicable.
13. Authorization Letter, if filed by an authorized representative.
When and where to file and pay?
The income tax return must be filed and paid on or before April 15 of each year at any BIR-Authorized Agent Bank of the RDO where you registered.
Simply submit your accomplished BIR forms with the required documents and your payment. The AAB will stamp mark "Received" on the return and will machine validate it as well. The machine validation will show the date of payment, the amount paid, transaction code, the name of the bank, and other important details.
If there are no AABs in your area, you can settle your taxes with the concerned Revenue Collection Officer (RCO) under the jurisdiction of the RDO.
What will happen if I miss the filing deadline?
Well, there would be penalties. Apart from your tax due, you have to pay 25% of the amount + 20% interest per annum.
This is applicable to amended returns as well.  By failing to include some computations, thereby causing you to file an amended return, you'd have to pay for a penalty.
In addition, neglecting to file the return will likewise require you to pay for a penalty, which is 50 percent of the tax due. So you definitely have to file and pay your taxes on time.
Is there an easier way to file the BIR form 1701 and pay my income tax return?
Yes! You can rely on Taxumo when it comes to filing and paying your taxes. Whether that be tax computation, filing, and settling your dues, Taxumo has products tailor-made to meet your tax filing needs as a self-employed, professional, or a small-business owner. You can use Taxumo Premium to file your BIR Form 1701. Just send in your receipts and our complete solution will take care of all your tax needs, so you can focus on growing your business.
Contact us now and request a demo from us! You may send us an email at taxumocare@gmail.com. Likewise, you may contact our team at the Taxumo FB page:  https://www.facebook.com/taxumo/
Learn more about Taxumo Premium
Additional Reading:
A Beginner's Guide to Filing Income Tax Return
How to File Quarterly Percentage Tax (BIR Form 2551Q
A Comprehensive Guide to BIR Forms for Freelancers and Sole Proprietors