The Tax Reform for Acceleration and Inclusion (more popularly known as TRAIN, less popularly known as RA No. 10963) has been signed.  This has opened up more options for Individuals, SME's, Professionals, and Freelancers when it comes to paying taxes.
TRAIN's New Tax Option
In particular, TRAIN gives us a new 8% Gross Receipt Tax that you can choose to file instead of filing the Percentage & Income Taxes. This is an intriguing choice as it definitely makes computing easier. Just multiply your total income (above 250K) by 8%! Then I asked myself, yes it's easy but is it cheaper? Will I get out ahead if I just opt to pay 8%?
How It Works
You see, the more business expenses you have, the less you have to pay for your Income Tax. The 3% Percentage Tax is a given but if you're in a business that has a low margin / high cost of sales, then the 8% Tax will definitely eat up into your margin.
To illustrate, this is a sample chart of the 8% Tax (red) versus Percentage + Income Tax (blue):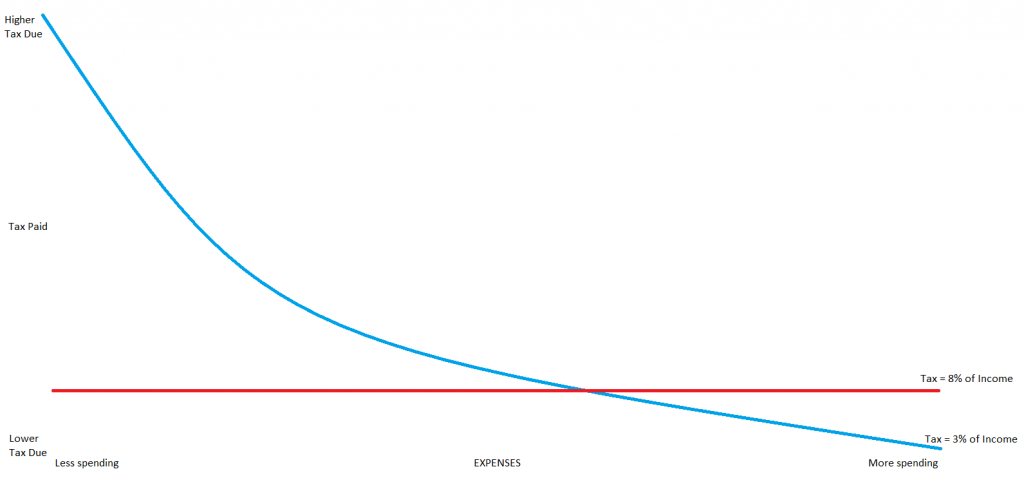 The x-axis here is the amount of spending you incur. Notice the blue line going down? It shows how your income tax goes down when you spend more,  finally flatlining into the 3% percentage tax rate. The intersection of the 2 lines corresponds to the volume of expenses at which Percentage + Income Tax (aka Graduated Income Tax Rate) becomes more economical/optimal than 8% tax.
So how do we get that point? We got you covered. We made a calculator! To use it, enter your monthly income. It'll compute for you at what point of spending TRAIN's 8% Tax becomes more expensive:
So, based on this calculator, if you find that the 8% Income Flat Tax Rate is best, it would be helpful to check the other articles below:
How to Avail of the 8% Income Tax Rate on Gross Sales/Receipts
How do I submit 2551Q and 1701Q with notation in line with opting in to the 8% Flat Income Tax Rate for Gross Receipts/Sales?
Ready to file and pay your taxes online with Taxumo?