One of your major responsibilities as a freelancer or sole proprietor is filing your BIR Form 1701Q. This form is also known as the Quarterly Income Tax Return For Individuals, Estates and Trusts. This is submitted quarterly for the first, second, and third quarters.
Who are required to file BIR form 1701Q?
According to BIR's guidelines, this must be accomplished and filed in triplicate by the following individuals:
A resident citizen engaged in trade, business, or practice of profession within and without the Philippines.
A resident alien, non-resident citizen, or non-resident alien individual engaged in trade, business, or practice of profession within the Philippines.
A trustee of a trust, guardian of a minor, executor/administrator of an estate, or any person acting in any fiduciary capacity for any person, where such trust, estate, minor, or person is engaged in trade or business.
In summary, you will need to file Form 1701Q if you're a professional (e.g. freelancer, doctor), a self-employed individual in a sole proprietorship, or a trustee.
Do I have to file Quarterly Income Tax?
Under the new TRAIN law, those who earn less than P250,000 annually are exempt from paying income tax returns. So if you fall under this bracket, you don't have to pay your quarterly ITR — BUT you still have to file.
Having said that, we do recommend that you still file your Quarterly ITRs and consistently comply. As we said previously in an earlier article, imagine needing to have an ITR and then having to explain how tax exemptions work to whoever you're talking to. Yeah, good luck.
Check out the new Income Tax Table under TRAIN. Take note that the rates will go lower in 2023.
My annual income is more than P250,000. How do I compute my dues?
The TRAIN law gives you two options for filing and computing your taxes. You can either follow the 3% percentage + income tax (use the graduated income tax table) or use the new 8% Gross Receipt Tax.
Now, the 8% Gross Receipt Tax might sound easier for you, but keep in mind that it's not for everyone. To know if you're making the right choice, check out this tax calculator that we made for you.
How do I compute my income tax dues if I opt for the 8% Income Tax Rate?
The first thing you need to know is whether your earnings come solely from your business or profession, or if your earnings come from both compensation (basically, if you have an employer) and business/profession. After which, you can apply the formula below applicable to you:
Income Solely from Business / Profession:
Total Income Tax Due = 0.08 * (Gross Sales – 250,000)
Mixed Income Earner:
Total Income Tax Due = (0.08 * Gross Sales) + Tax Due on Compensation
As you can see, the Php 250,000 deduction is NOT applied for Mixed Income Earners. Reason for this is because the Php 250,000 has already been deducted from the tax due based on compensation so it no longer applies to the tax from your business.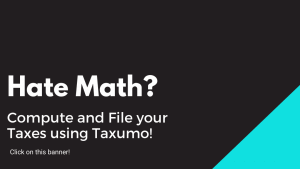 What are the attachments required for filing my quarterly return?
Here are the documents you need to prepare:
Certificate of Income Tax Withheld at Source (BIR Form 2307), if applicable.
Certificate of Income Payments not Subjected to Withholding Tax (BIR Form 2304) if applicable.
Duly approved Tax Debit Memo, if applicable.
Previously filed return, if an amended return is filed for the same quarter.
When and where do I file my BIR Form 1701Q?
You must file your income tax return first using eBIR Forms then print out copies of the form (with the attachments) then submit it to any Authorized Agent Bank (AAB) located within the territorial jurisdiction of your Revenue District Office. Present your accomplished BIR form 1701Q with the requirements and your payment. The teller of the AAB or the RDO officer will give you a copy of your stamped and validated form.
For "No Payment" returns, you only have to attach the required documents to your BIR form 1701Q. You will also receive a copy of your stamped and validated form.
In case your place doesn't have any AABs, you can file this directly with the Revenue Collection Officer or duly Authorized City or Municipal Treasurer of the RDO.
Please do not forget to also file the attachments by downloading the Alphalist Data Entry and Validation Module (newest version), encoding each attachment one by one, generating the file, and emailing it to the BIR. Oftentimes, people forget to do this which results to penalties, too.
Deadlines for filing of BIR Form 1701Q
| | |
| --- | --- |
| Period | Deadline |
| Quarter 1: January to March | On or before May 15 |
| Quarter 2: April to June | On or before August 15 |
| Quarter 3: July to September | On or before November 15 |
Your 4th quarter filing will be included in your Annual Income Tax Return. Hence, the lack of a 4th quarter deadline.
Remember, the BIR doesn't give extensions to these deadlines. Taxpayers are encouraged and expected to file as early as they can to avoid the usual inconveniences during the last day of filing.
How do I accomplish and compute my quarterly income tax returns?
1. Fill out Part 1 of BIR Form 1701Q. This includes your TIN, registered name, registered address, the line of business or occupation, and other applicable information.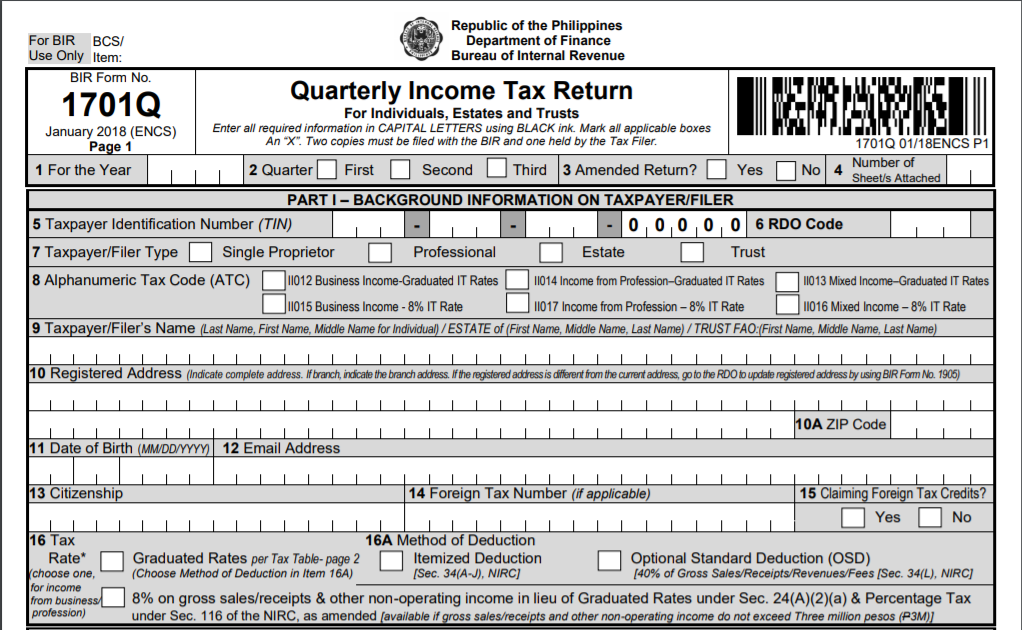 2. Part 5 of the form states the computation of your quarterly income tax. Put your Sales/Revenues/Receipts/Fees. Add the Amount You Received as a Partner from General Professional Partnership, if there's any.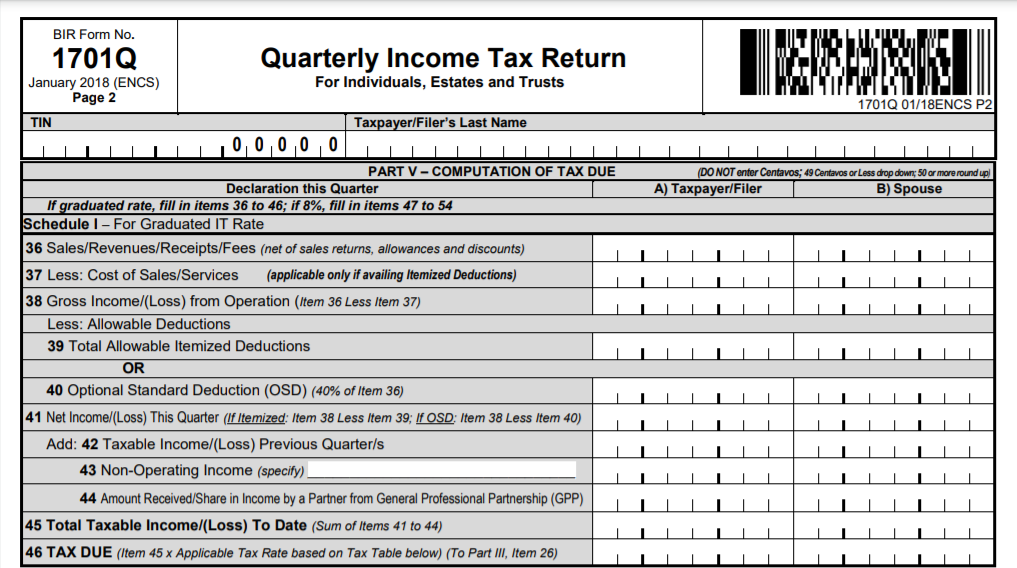 3. Determine your Gross Income by subtracting your Cost of Sales/Services to your total sales or revenue. If you're a freelancer, your cost of services will include internet fees, freelance platform fees, etc. For sole proprietors, you can put your building rental, internet cost, salaries of your employees, and other relevant expenses.
4. After getting your Total Gross Income, determine and compute your Total Allowable Deductions. You can choose between Itemized Deduction and Optional Standard Deduction. Take note that neither of these options is available for you if you pick the 8% Gross Receipt Tax.
OSD – This allows you to claim a deduction of 40% from your gross sales or receipts for the quarter.
Itemized Deduction– You have to identify and deduct all the ordinary and necessary expenses from your gross income. These expenses must attribute to the development, management, and operation of your business, like travel and salaries.
5. Subtract your Allowable Deduction from your Total Gross Income to get your Taxable Income.
6. Compute your Tax Due by using the tax table under the TRAIN Law.
7. Determine your Tax Payable by deducting the Total Tax Credits/Payments for the Quarter from your Tax Due. This includes Credible Tax Withheld from the previous Quarters, Credible Tax Withheld per BIR Form 2307, and Prior Year's Excess Credits.
Is there any easier way to prepare, file and pay my income tax return?
Let's admit. The computations and filling up of forms can be quite tedious. The submission of attachments are a nightmare, too (since we need to input it one by one)!
Fortunately, there is Taxumo, a web-based tax filing app that lets you skip the manual computing of tax dues and accomplishing of BIR form 1701Q. Instead, you would only need to enter your income and expenses, and you get your tax dues auto-calculated in real-time.
The BIR form 1701Q is also auto-generated so there's no need to manually fill out and print forms. The best part is that with a click of a button, you could submit your taxes online through the app. Taxumo also submits the attachments (2307s) for you!
Are there any penalties if I missed the deadline for filing?
Absolutely. Apart from your tax due, you have to pay a 25% surcharge, a 20% interest per annum, and a compromise penalty. If you choose to neglect to file the return, there is a penalty of 50% of the tax due.
Refusal to pay penalties will be referred to the appropriate office for criminal action, so make sure that you pay your taxes on time.
You may also want to check out our other articles below:
Hungry for more? Visit our Taxumo blog HERE.