SMEs are mostly hit during a time of crisis – whether it's economic or health in nature. For one, the Coronavirus pandemic has prompted the government to extend the Luzon lockdown. Add to that is the challenge to file and pay the annual income tax return or ITR on time.
Advisory: BIR Extends the 2020 ITR Filing until May 15, 2020.
The good news is because most SMEs have lean teams, they are also the most flexible and quick to adapt to this new normal. As the largest contributor of tax payments in the Philippines, SMEs can greatly impact tax collection to fund the government's emergency response program. #NationBuilding #WeHealAsOne
But how can your business step up to this duty? All the more survive a crisis like this?
Here are 5 ways you can do to make your business pandemic-proof (so you can still pay your tax dues!)
Give assurance to customers or clients
Be remote-ready
Don't stop lead generation efforts
Adjust your sales strategy
But first, serve your community
1) Give Assurance
Key here is communication. Initiate the conversation with your clients or customers by assuring them you are still here to serve – albeit, on a limited capacity. Just by knowing they have an open line to you gives them some peace of mind in this unique situation. Have a dedicated customer support hotline that works despite a slow down in operations.
It is also a good time to build loyalty with both new and old clients. If you are a service-based business, you can send a quick status report of where you are in your project with them. This way, both of you can set and manage expectations at this time. Most importantly, ask them what they currently need now and how can you help them.
Grab Philippines is quick to identify what their customers need at this time and is able to serve even on a limited scale: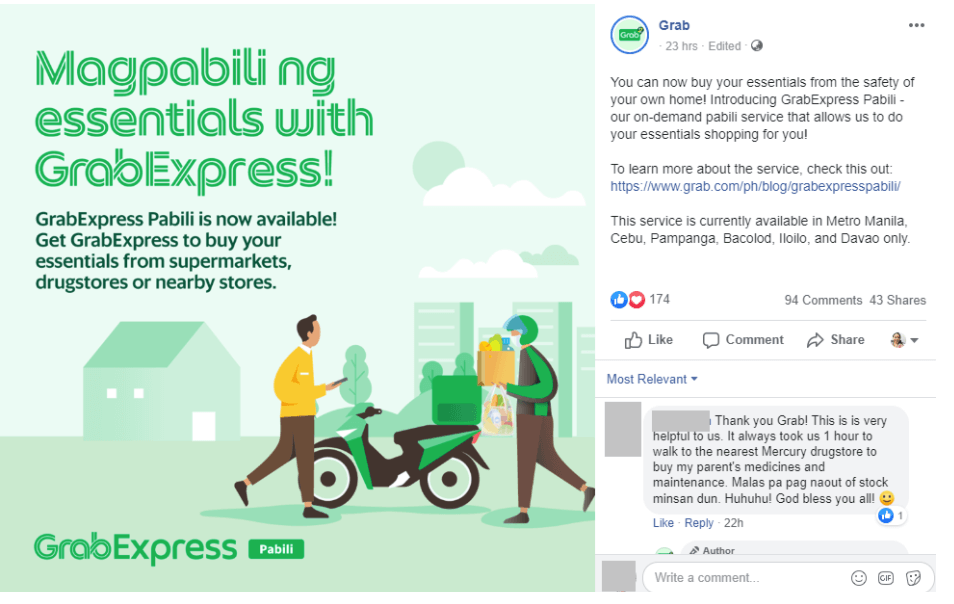 2) Be Remote-Ready
It has been talked about that remote is the future of work, but adoption isn't as prevalent as in other countries. It may be industry-specific, BUT there are ways to continue certain aspects of a business while off location. It's high time to be remote-ready! Start by establishing your own remote team, even on a skeletal workforce. Find ways to maintain security protocols. For project management, use newbie-friendly cloud-based tools like Trello, Asana, Notion, and Google Drive. Have a system in place for work-at-home operations.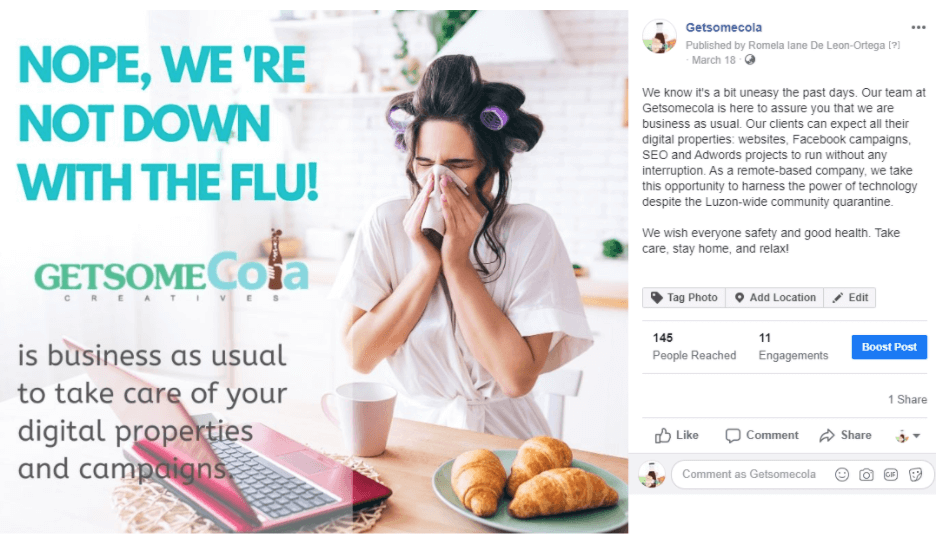 Switch most (if not all) transactions to digital – and that includes paying salaries, bills, and taxes online!
2020 Income Tax Return or ITR Filing: What You Need to Know…
BIR has extended the due date of the annual income tax filing until May 30, 2020.

Taxumo's deadline for ITR filing is on May 28 (File early to avoid any hassle!)

The forms to file are 1701A (under 8% Income Tax Rate), 1701A (under Graduated Income Tax Rate), and 1701.

Receive a copy of your ITR and official receipt after online filing and payment via Taxumo
One example of a physical business that switched to digital at this time is a derma clinic that now offers online skincare consultations. Having an online scheduler and Skype video calls in place, one can continue to thrive despite social-distancing measures.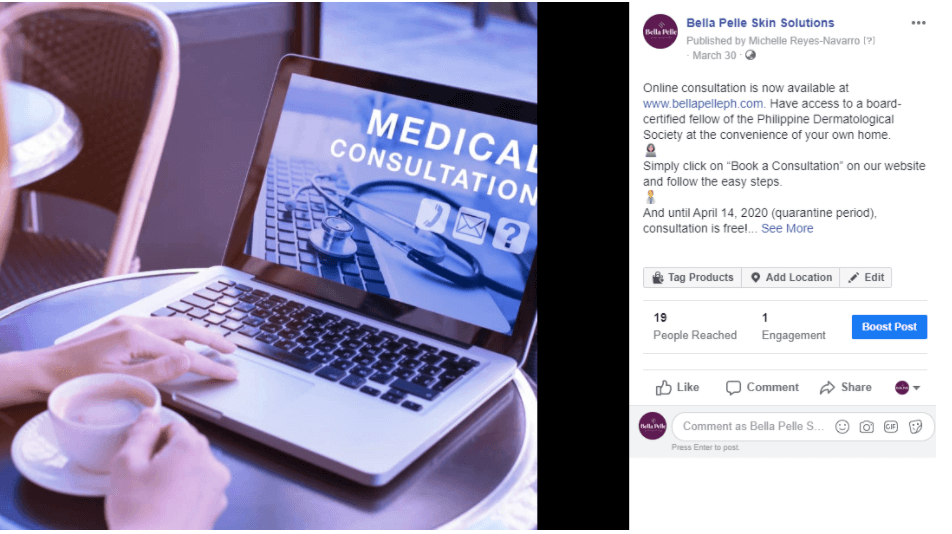 Part of having a remote, digital team is having the ability to work on your online assets offsite. Begin by refreshing or updating your website to announce any new systems your business will do to cope with the situation.
Create flexible social media and blog content calendars. During a crisis like this, information is new by the hour. Be quick to adapt and have your Facebook, Instagram, and blog posts ready to match the current environment.
Finally, for eCommerce businesses or those that take in online orders, secure a nice deal with a reliable shipping partner. At this time, most of them are willing to help and can offer friendly rates.
3) Don't Stop Lead Generation Efforts
For businesses selling non-essential goods, this can feel like a dry spell. But that doesn't mean you have to stop lead generation altogether. The goal is to still be top-of-mind once everything normalizes. Take advantage of the fact that now, you have more time to nurture leads. The leads you bring in now can be your future sales!
So start reviewing your customer's buying journey. Has it changed ever since the pandemic? What can you do to nudge them in the right direction? While you must lower your expectations in making a sale, offer them a chance to place orders, make reservations, pencil-book appointments – all of which can be fulfilled once business resumes. Use Google forms!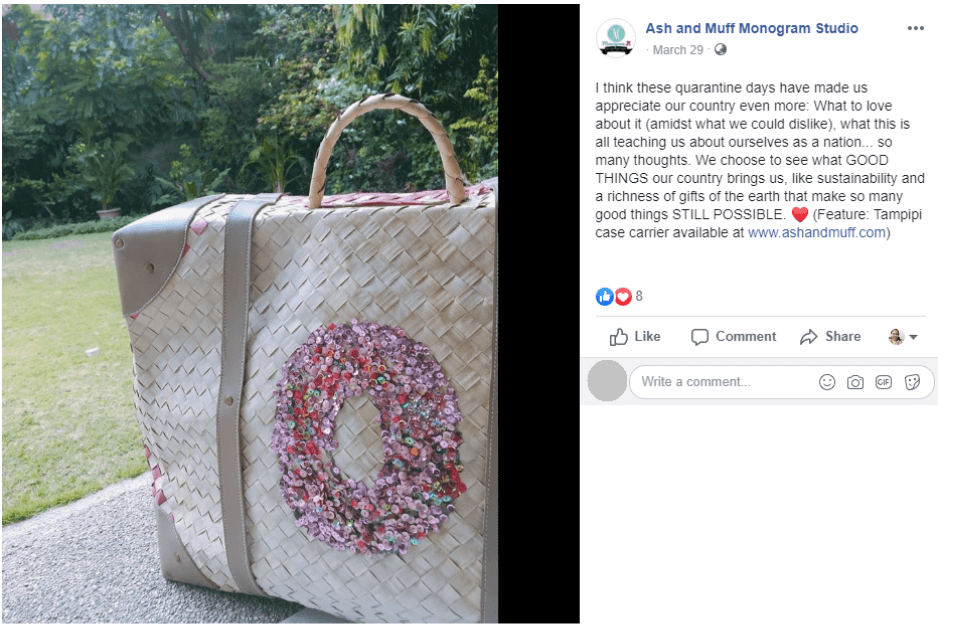 For service-based businesses and online infopreneurs: Use this time to be creative in producing relevant lead magnets: Online courses, webinars, guides, and other digital freebies that can serve your market in this unique situation. The objective is to capture needed contact details so you can reach out to them in the future.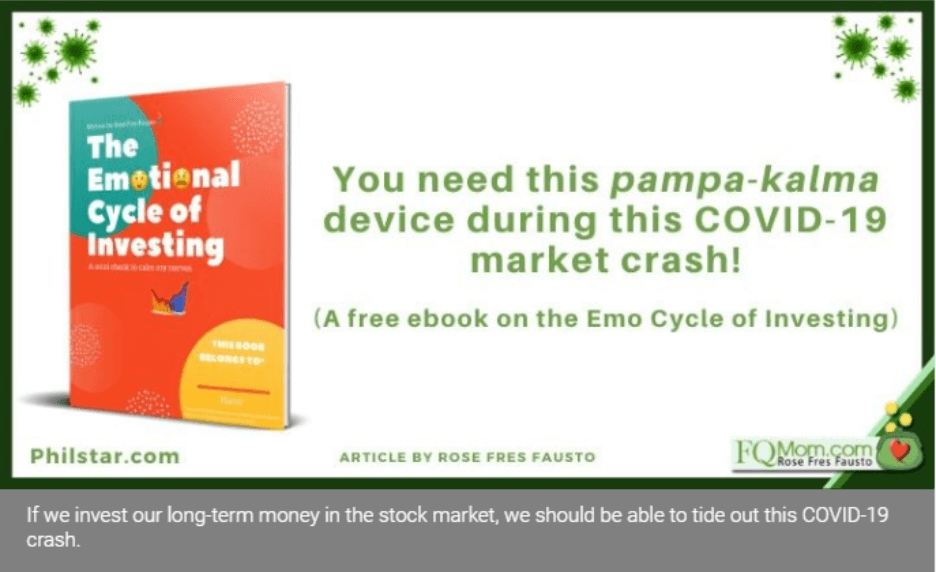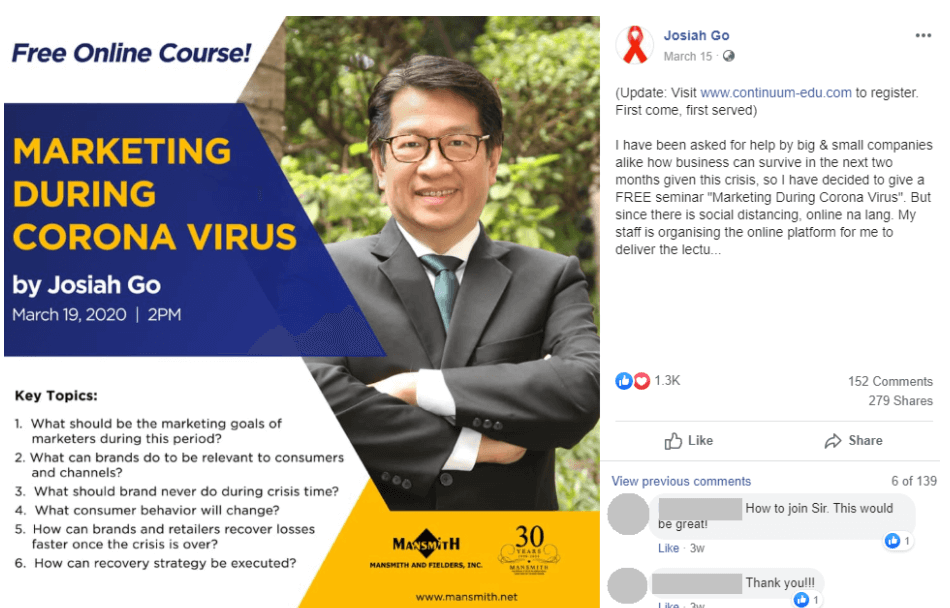 For your list of warm leads, move forward in sending in your proposals. These things don't have to be decided upon now, but it's good to continue the conversation with the interested parties. Just a word of caution: Avoid being too pushy in closing a deal at this point in time.
4) If You Need To Sell: Adjust your Sales Strategy
Since not all SMEs can survive double monthly lockdowns, some of us might have to continue selling. If you must though, consider alleviating the financial burden from your customers by offering special discounted pricing, flexible payment terms, productizing offers (for service-based businesses) that are cheaper as compared to buying each service component.
For eCommerce businesses selling non-essentials, consider tying up sales with a fundraiser.
Examples:
"For every item bought from our store, a portion of it goes to buying needed medical supplies for our frontliners."
"By purchasing any of our hand-made products, you are helping our partners in impoverished communities earn a living to support their families in this difficult time."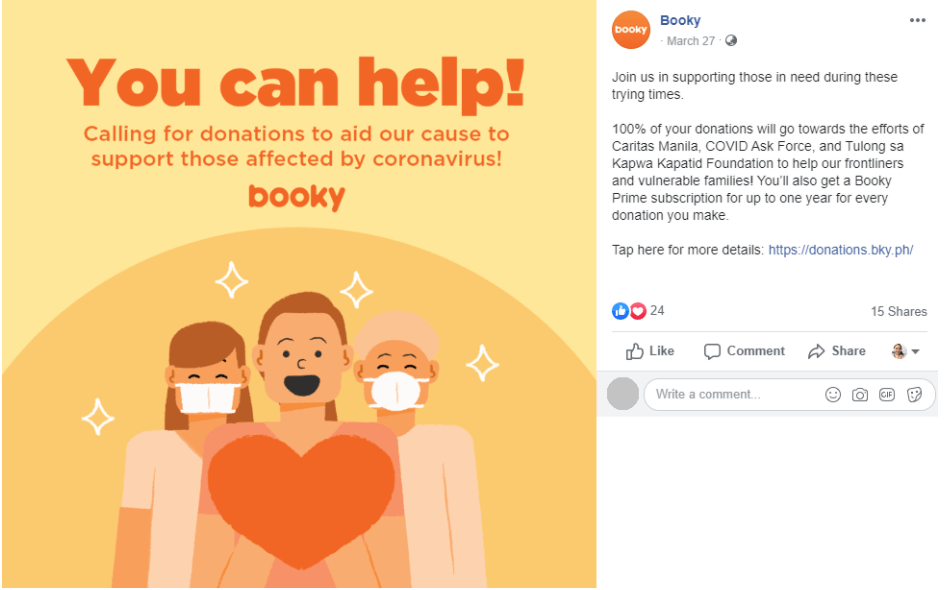 Booky, a popular mobile app, is giving away free one year Booky prime subscriptions for every donation made.
Related:
Has your business been affected by COVID-19? Get up to 80% on your Taxumo subscription. #ATimeForHOPE
Our COVID-19 Response: Price Reduction on Annual Plans and Free Subscription for Doctors
5) But First, Serve Your Community
Above all else, now is the time to show you care. Serve your community first and you will be remembered long after the pandemic is over. Find out what they need at this point in time. For example, if you are catering to young moms, suggest activities to enrich family time during the quarantine. It can also be as simple as posting a new recipe they can whip up at home if you are a food-based business.
H&M, an apparel company, chose to help young families at home get into a healthy routine of doing yoga. Free Facebook live sessions on their page.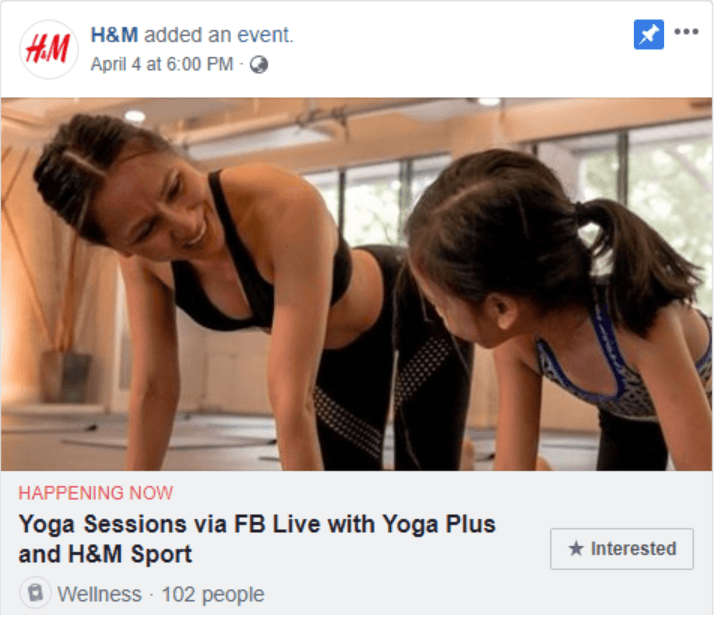 Look into your extra stocks or inventories. Can you possibly donate some of it? Partner with other agencies that share the same cause. Pick a beneficiary group and start a fundraising drive – whether that is through sales, or by simply donating money. Activate your social responsibility arm.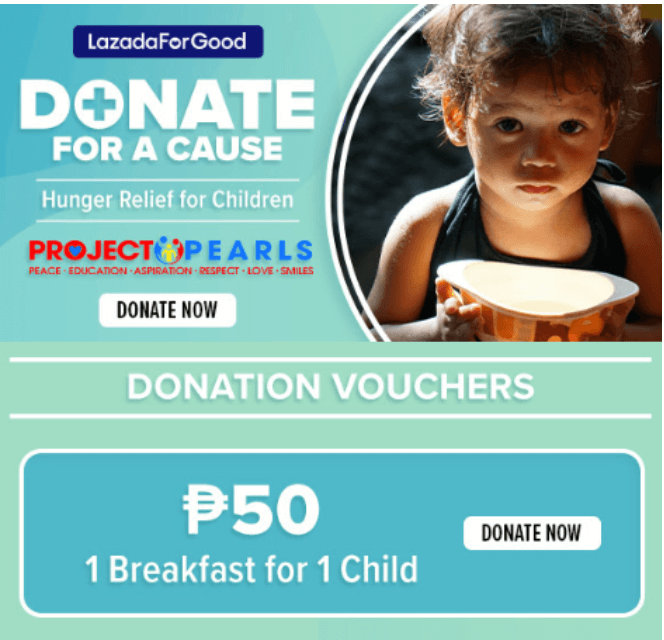 Aside from these, health tips, government advisories, and timely announcements are also valuable to include in your social media marketing schedule. Set aside inspirational or even humor-toned content to uplift spirits.
As our final tip…
Businesses don't have to reach a halt during a pandemic. Yes, it may slow down but we can definitely divert our productivity.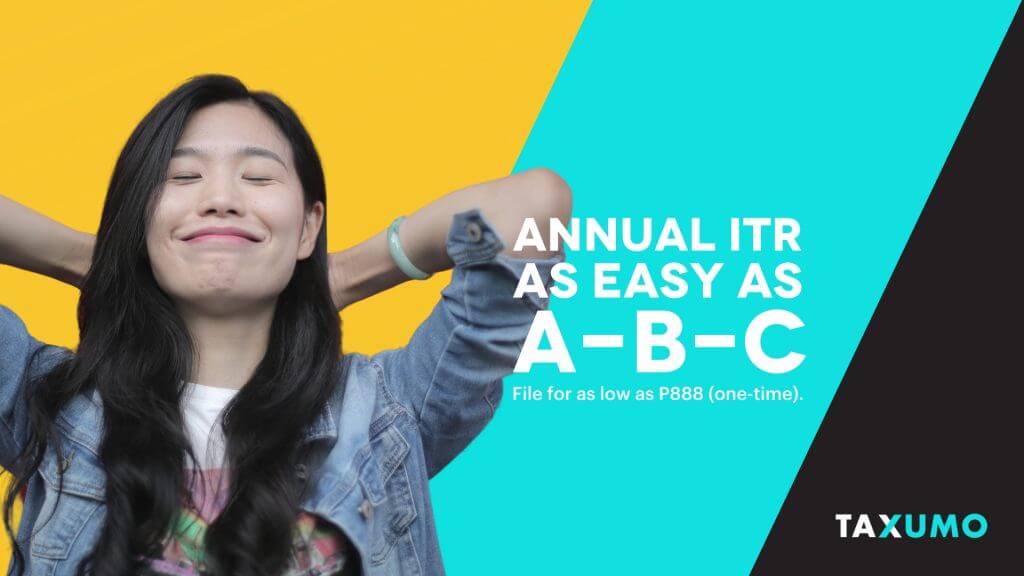 Specifically, it's good to start planning and strengthening your digital strategies.

Use this time to advance your knowledge by attending webinars (most are free!).

Re-evaluate where you are in your marketing plan this year. See if your branding needs a facelift.

Have a follow-up plan for gathered leads.

Prepare the online order fulfillment process once business resumes.

Find a way to automate the filing and payment of bills online like your taxes!
FILE AND PAY YOUR ANNUAL ITR ONLINE!
Taxumo's subscription-based pricing means we got your back even during emergencies!
We are a BIR-accredited eTSP (Electronic Tax Service Provider).
File and Pay your ITR online for as low as P888 (one-time).
If you are new here, just sign-up to Taxumo and pay your ITR online using our simplified, and user-friendly app.
1. Click sign up at Taxumo.com or go here.
2. Follow the guided steps on how to create a company profile
3. Once you complete your company profile, you will see the Taxumo dashboard
4. Select Tax Dues
5. On the Tax Dues page, scroll down to Income Tax Return.
6. Look for the Annual Income 1701 (or 1701A) card and click File Now.
7. You will see a pop-up "Time to subscribe?" and click the button "One-Time Fee" (or you can also subscribe if you wish).
In this time of Covid-19, we need online digital channels to work in our favor. Whether that is to send cash donations, help businesses operate remotely, or pay taxes online.
Visit our blog and FAQs sections to know more about how to file your 2020 ITR online using Taxumo.