The Holiday Season is upon us. And it's the season to be jolly, right? 🙂
But once the festivities are over, it's a reality check for most business owners like you.
What's the realization that most entrepreneurs have at the start of each year…
"Oh (expletive here), I haven't renewed my business permit!!!"
You very well know that having your business permit renewed each year is mandatory.
In fact, the obligation to pay the business tax every January of each year is provided for in the Local Government Code of the Philippines (Republic Act 7160).
Benefits of Renewing Your Business Permit
Apart from the business permit renewal being mandatory, there are other benefits for complying with the government.
For one, you get to sleep well at night knowing that your LGU continues to give your business that stamp of approval.
Second, your customers get that peace of mind too — they will assume that they are transacting with a legally compliant company whenever they see your latest Mayor's Permit hanging on your wall.
They won't think that you're a fly-by-night operation.
Last, but not the least, you avoid the hefty fines and surcharges levied against businesses that fail to renew their permit on time.
However, even if you are aware of the benefits, how come, like most business owners, you always scramble to get that renewal at the start of each year?
Well, you don't have to worry because, for a limited time, we are offering our Business Permit Renewal service to small business owners (specifically, for sole props).
It's Not Too Late: Biz Permit Renewal by Taxumo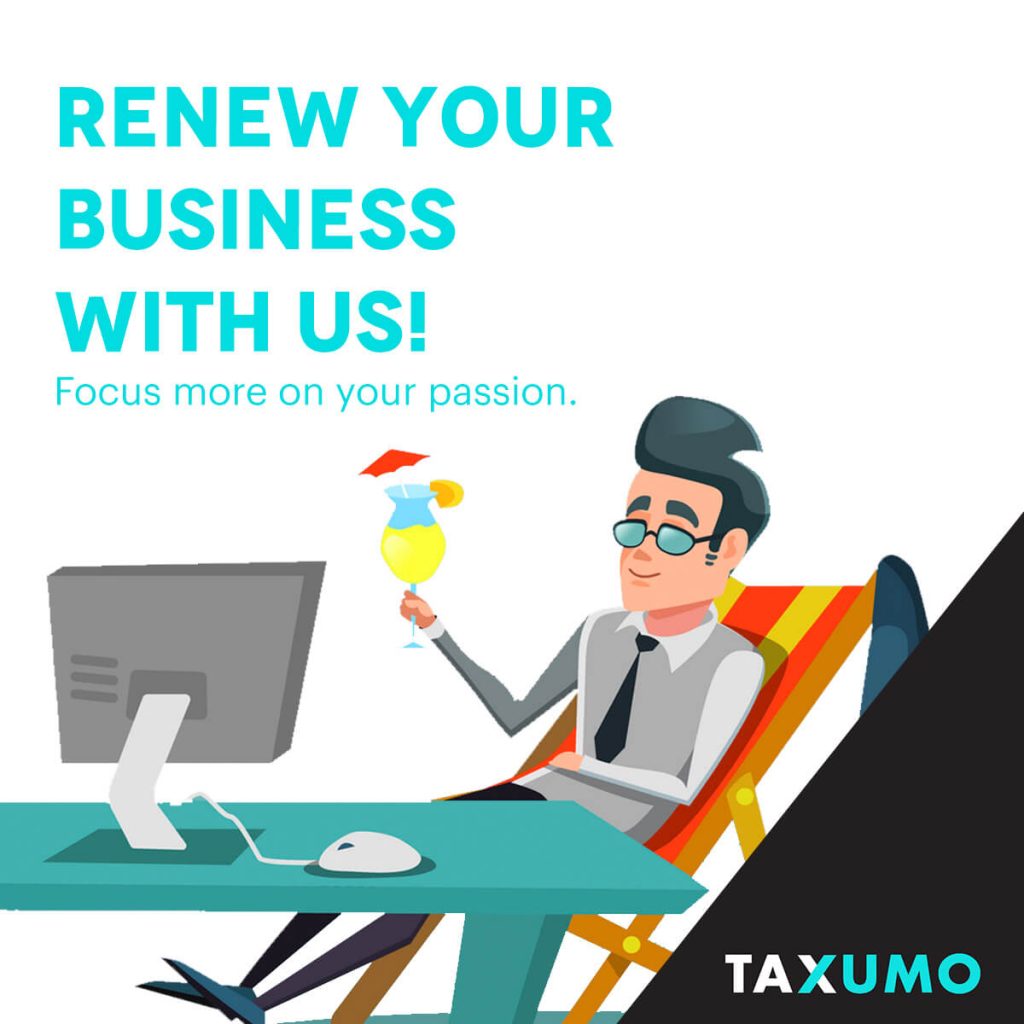 At Taxumo, we understand that you have a lot on your plate and business renewal is not at the top of your to-do list.
You have a business to run and look after, you can't afford to lose hours (or even days) lining up at your Municipal Hall just to get your business renewal.
Time is money and we know that.
That's why…for a limited number of business entities and a limited time, we are helping business owners like you avoid this yearly hassle by offering an all-in-one business permit renewal package called Taxumo Biz Permit Renewal.
The Mechanics
Biz Permit Renewal is open to all sole proprietors (for Taxumo and non-Taxumo clients)
Business must be registered within Metro Manila only
Complete requirements (see below) must be submitted on or before December 30, 2019
Note that Business Renewal here pertains to Business Permit Renewal in your Barangay and LGU; The yearly BIR Registration Fee (Renewal) is part of all our subscription packages and can be filed and paid online.
The Requirements
For both Barangay / Municipal Hall Renewal:
Letter of Intent to Renew your Business (3 originally signed copies)
Authorization Letter (3 originally signed copies)

Special Power of Attorney (3 originally signed copies)
For Barangay Permit Renewal:
Original and photocopy of previous year's barangay permit and official receipt
For Mayor's Permit Renewal:
Previous year's Mayor's Permit/Business Permit and Official Receipt, original and photocopy
Community Tax Certificate (CTC) / Cedula from previous year
DTI Certificate (if registered at DTI)
Contract of Lease or Certificate of Occupancy to use Premises
Previous year's Sanitary Permit to Operate
Comprehensive General Liability Policy Insurance (CGLP) / Local Insurance and official receipt from previous year
Certification list of employees as of December 2019 signed by President or HRD (if applicable)
Quarterly VAT Returns or Percentage Tax Returns for the previous year with BIR Confirmation
Quarterly Income Tax Returns (1st, 2nd and 3rd Quarter)
Certificate of Gross Sales for previous year
Previous stamped financial statements, audited or unaudited (if applicable)
Print your checklist: https://txmo.co/bizrenchecklist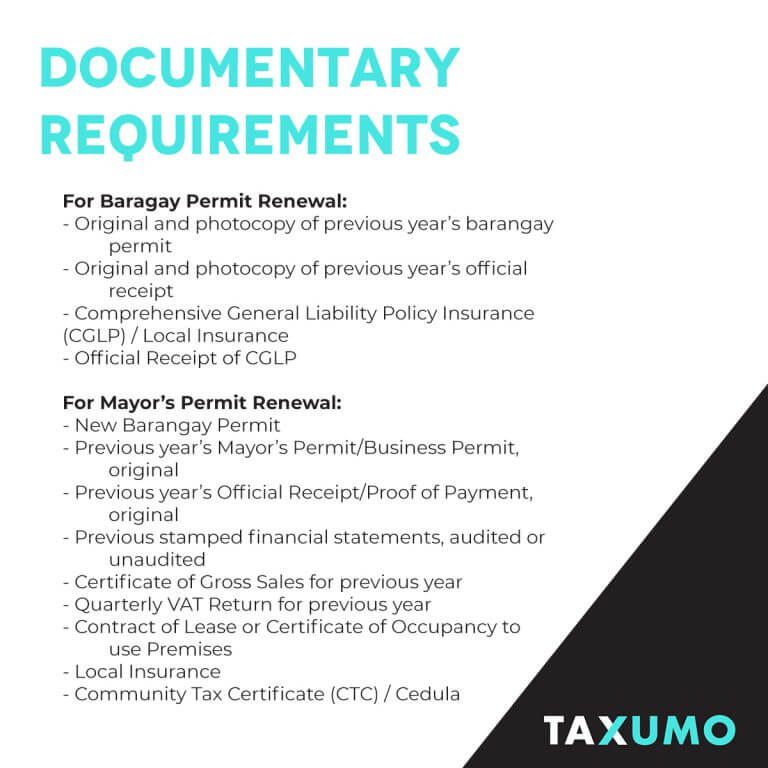 For reference, you can also download the infographic below and save it on your phone.
Steps to Renew Your Business Permit
Fill out our Biz Permit Renewal Form below or go to this link: https://airtable.com/shrpAKkTxiMsSiMLx
Pay the processing fee of P5,499.00 (payment instructions will be sent to you via email) and send your proof of payment to bizreg@taxumo.com.
Submit all requirements to Taxumo Headquarters located at the address below. Please note that we are only accepting applications until December 30, 2019 only. (Sorry, but documents received after that date will no longer be processed):
Taxumo Headquarters – U121 Avida Cityflex SOHO Tower, 7th Ave cor Lane T, Bonifacio Global City, Taguig, 1634 Metro Manila
Taxumo will start the renewal process (starting January 2, 2020) and contact you via email for the actual government fees you need to settle with your LGU. Kindly pay the corresponding business renewal fee (payment instructions will also be sent to you via email) and send proof of payment to bizreg@taxumo.com.
That's it! We will pay the corresponding LGU on your behalf and notify you once the business renewal has been completed. After that, we will have the renewal documents delivered to your address.
[Sign-Up Here] Taxumo Business Permit Renewal Form
Frequently Asked Questions (FAQs)
1. Does this include BIR Registration Renewal?
Our service does not include BIR Registration Renewal because it can be done online through a Taxumo subscription. Learn more here.
2. Can you produce financial statements for me?
We are not an auditing firm, so we cannot produce financial statements for you. However, we can endorse you to our partner accountants.
3. How much do I need to pay to the LGU for the renewal?
What we will do is have your business assessed and we will get back to you with the computation of the fees presented by your Municipal hall.
4. How much do I need to pay to the barangay for the renewal?
Usually, it would cost around P500 but will still depend on the barangay's computation.
5. How much do I need to pay to Taxumo for the Business Renewal? Will that include everything?
The processing fee is P5,499.00 (includes multiple trips) and is not inclusive of your actual renewal fees.
6. How do I pay the processing fee and the business renewal fee?
Payments will be made through UnionBank via their bills payment facility. Instructions on how to do that will be sent to you via email after you complete the sign up form.
7. How long will the business renewal process take?
The business renewal process will start on January 2, 2020. Please allow us 1-2 weeks to complete your business renewal. We will get in touch with you as soon as your business renewal documents are ready.
Sign-up Today (accepting until December 30, 2019 only)!
Hurry, sign up with Taxumo's Biz Renewal service by completing our Biz Permit Renewal Form (see above) or at: https://airtable.com/shrpAKkTxiMsSiMLx. There are only a few spots left and we will only be accepting applications until December 30, 2019. Thanks!