When growing your business, there may come a point when you'll need help with your taxes. So, the question now becomes: should I go for a tax software like Taxumo or should I hire an accountant?
Even if Taxumo is easy to use, there will be times when you'll need the services of a CPA. When your business starts to have a complicated financial profile, hiring a professional may save you money in the long run. Here's our take on whether you go with Taxumo, hire an accountant, or even have both!
What You Need To Know About Taxes
Usually, when we talk about taxes, there are two sides to that story: tax planning and tax compliance.
Tax planning is the process of reducing your tax liability through different means. In essence, you're planning your transactions before they even happen and making the proper decisions that will minimize the tax you'll owe to the BIR.
This also means choosing the appropriate tax schedule for your business. Don't forget that you have to commit to your chosen tax schedule for an entire year. So, it's important to make sure that you're making the right decision by the time you file your first quarter income tax return.
Tax compliance, in contrast, has everything to do with filing and paying your required tax forms and submission of other requirements to the BIR. In other words, tax compliance involves being aware and observing tax laws and requirements set by the government.
While Taxumo is a great tool for tax compliance, there is a reason why you should hire an accountant for tax planning purposes. The more complicated your business's financials becomes, the more factors will come into play, and the more important tax planning will be in minimizing your tax dues.
When You Should Get Taxumo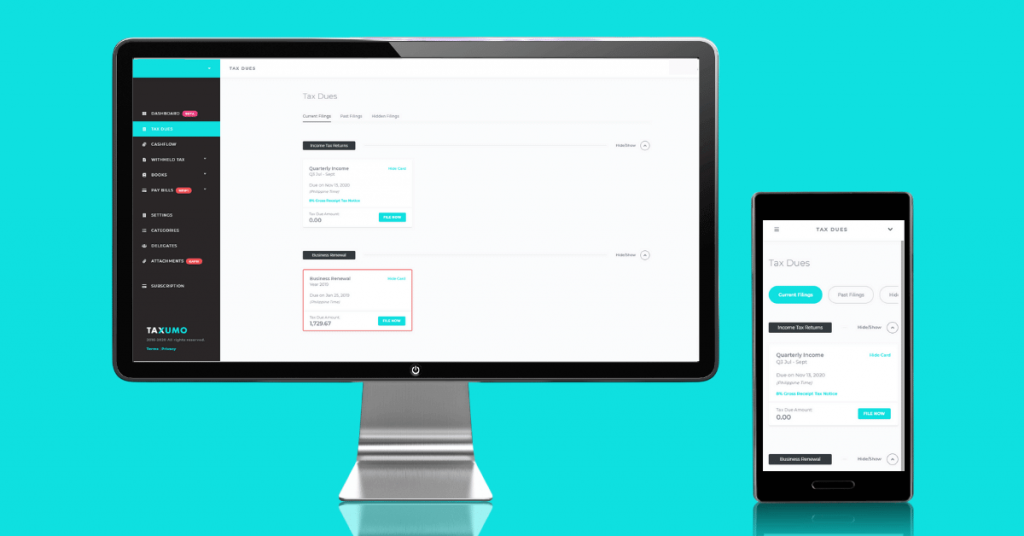 Filing and paying your taxes is a function of tax compliance. You're reporting all your income and expenses for the entire year. All these transactions will be the basis for how much tax you'll owe to the government.
Preparing and filing your tax returns is a very administrative task. You have to collect financial data, fill in tax forms, submit them to the BIR, and pay tax dues should you have any. Naturally, this is something software can be very good at. The potential for human error is high if you choose to file taxes manually and the monthly cost for Taxumo eliminates most of that risk.
So if you want to have a stress-free and automated tax filing experience, Taxumo is a great choice for you.
What Benefits Do I Get With Taxumo?
Taxumo is an end-to-end software for online tax compliance. This means that you're able to enjoy the following on our app:
Record income and expenses
Real-time tax dues calculation
Auto-generated tax forms
And, online tax submission and payment
With Taxumo, you also have the option to pay your taxes through different payment channels such as your credit/debit card and online banking. This way, you'll no longer have to line up at Authorized Agent Banks for your tax payments.
When You Should Get an Accountant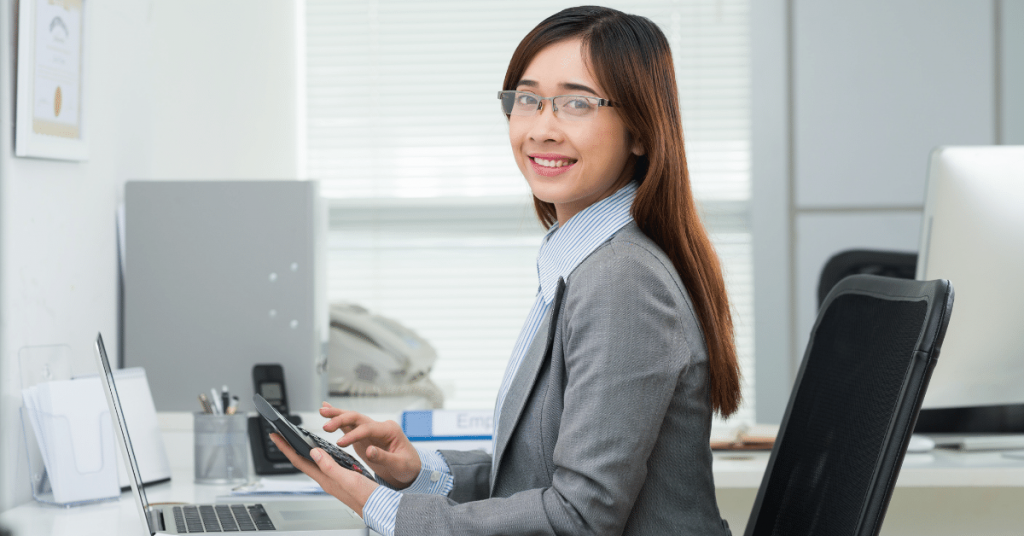 While Taxumo is an inexpensive and efficient way for tax compliance, it may not provide you the best picture when it comes to tax planning. For businesses, tax planning becomes more critical as their financial profile becomes more complicated. The decisions they make will have ramifications on how much tax they will pay at the end of each month and quarter.
Taxumo can give you insights on how a certain decision might impact your taxes (e.g. will opting for 8% or graduated income tax result in bigger tax dues). But, this is a very black and white outlook.
Getting a professional's opinion on your tax situation becomes more important as your business continues to grow. Planning your taxes ahead becomes more necessary if you want to lessen the amount you pay to the BIR.
The Best of Both Worlds
Hiring an accountant and getting Taxumo isn't and shouldn't be mutually exclusive. Having both can provide you the best experience when it comes to your taxes.
Picture this. An accountant would help set your business up to cut your tax payments as much as possible. Taxumo, on the other hand, can automate your tax filing and payment for you. This means less tax dues you need to fork over to the BIR and even lesser headaches when it comes to your tax filings.
Lucky for you, we also have partner accountants that you can talk to about your tax situation. You can visit our Taxumo Consult page to set up a meeting with them. And, while you're at it, sign up for a free Taxumo account as well!