Whether you're a freelancer or a business owner, obtaining a BIR registration certificate is a must for you.
Also known as BIR Form 2303 and Certificate of Registration (COR), this type of document gives you the legal rights to operate your business in the Philippines. All professionals licensed by the Philippine Regulatory Commission, Non-Licensed Professionals like freelancers and people with digital careers, sole proprietors, partnerships, corporations and cooperatives should have this sheet of paper, and should take care of it.
It provides you with Tax Identification Number (TIN) for your business, if you are a partnership, corporation or a cooperative. If you are a professional or a sole proprietor, your personal TIN is the one indicated in the Certificate of Registration. It also states the types of taxes you will settle.
Here is a sample of a Certificate of Registration and its parts: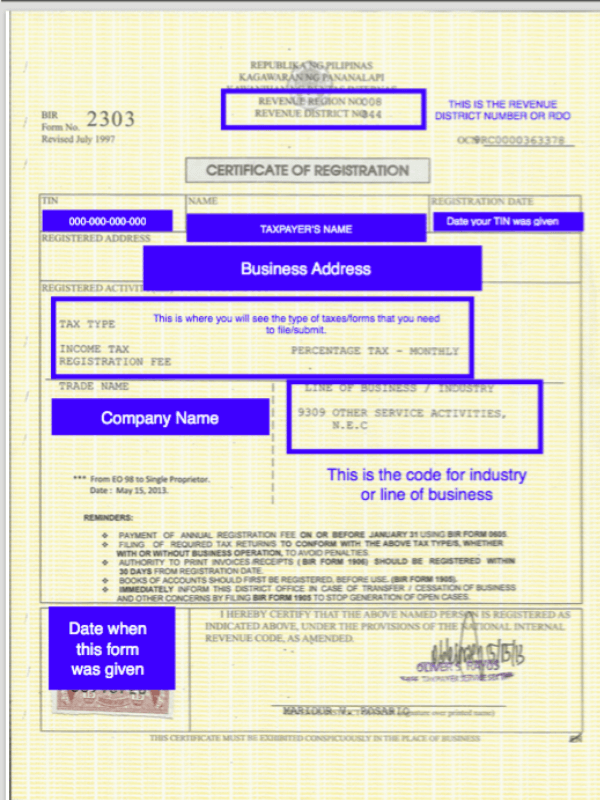 Many business owners are hesitant to register their ventures because the process can be expensive and time-consuming. But having a legitimate business is beneficial to your company and its growth.
Some people also think that once one registers, the BIR will know that they exist. But, in reality, once a Client withholds taxes and gives you a 2307 form or a Certificate of Creditable Tax Withheld at Source, BIR already expects you to pay taxes as a business. To know more about 2307 forms, check this link:
Helps build customer's trust
Consumers tend to buy products from credible and trustworthy brands. And having a COR can help you gain your customer's trust.
Say you're running a coffee shop. When your business is registered, you are required to display the certificate and other forms in your establishment, such as the Mayor's Permit, Sanitary Permit, Health Clearance, and Fire and Safety Inspection Certificate. These documents have the power to make your customers feel safe. They will be more confident to purchase your goods and recommend your establishment. This gives you the chance to attract more customers and gain more profit.
Gives you marketing advantage
When your business is legitimate, you'll be more confident to market it, especially online. And in this digital age, being visible on the internet can give you a competitive advantage.
You can build your business website and set up marketing campaigns on different social media platforms without worrying about legal issues. This will boost your sales and give you the opportunity to recover the costs of your taxes.
Clients usually have a vendor accreditation process where they will require you to submit your COR (Form 2303) and other documents. Clients need these to be able to vet that you are a legit business and that they will be able to get an official receipt from you which they will need to log payment to you in their books. Remember that those who can issue official receipts catch the bigger clients!
Gives you a peace of mind
As an entrepreneur, there are several things in your mind. You think about your marketing strategy, your sales, and maintaining your business.
Securing a BIR registration certificate will give you one less thing to worry about. Remember, you can make your business invisible in the government's records by not filing a Form 2303, but it doesn't make you safe in the eyes of their inspectors.
Also, there are punishments for those who don't register their businesses. When caught, you will have to pay a fine of P5,000 to P20,000 and serve 6 months to 2 years in prison.
Filing for a BIR Certificate of Registration can be time-consuming, but a business license is vital to your success. Besides, you have to know your obligations as an entrepreneur. Keep in mind that it's wise to comply with the laws and regulations because it lets you focus on running and growing your business.
Need help with preparing and paying your taxes? Check out Taxumo's website today and request a demo!