Manila, Philippines – Presented by Manila Workshops and TAXUMO, the Entrepreneurs and Freelancers Forum 2020 is happening this January 11 at the Bayanihan Center, Pioneer Street, in Pasig City, from 8:00 AM to 5:00 PM.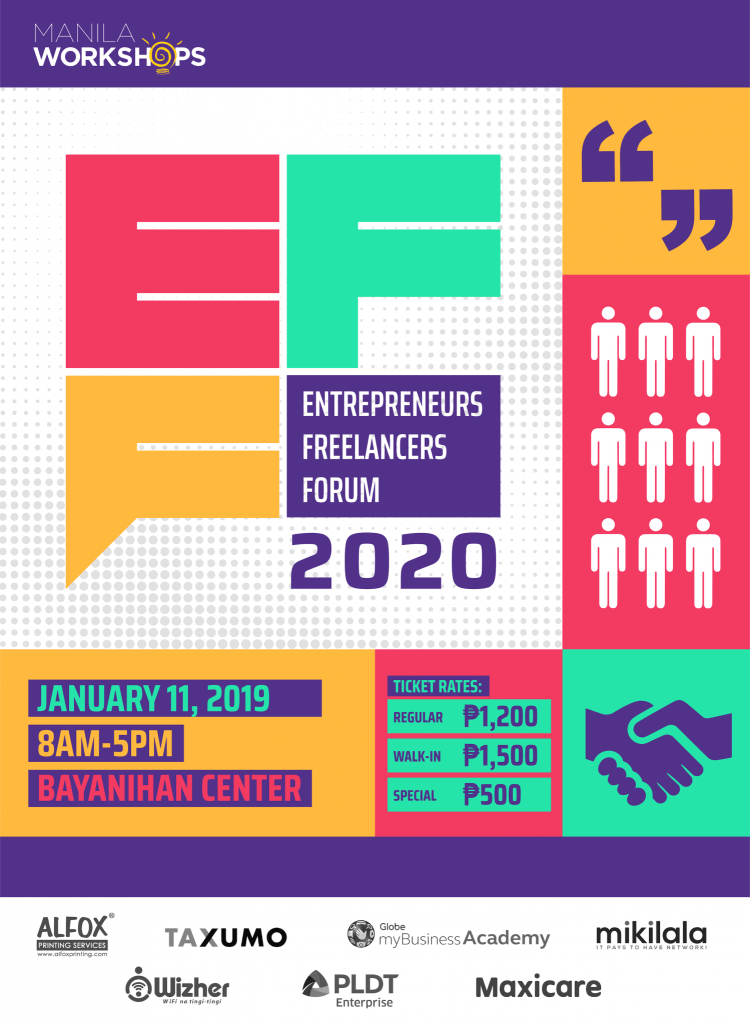 This event will gather aspiring entrepreneurs and freelance professionals to share knowledge, experiences, and aspirations. This will help professional individuals to grow their business faster. There will also be booth exhibits from different organizations and a time to speed network to be able to meet new people and gather new connections for your business.
Eighteen speakers will be talking during the forum, including Manila Workshops' CEO and founder, Ginger Arboleda, as well as EJ Arboleda, the founder, and CEO of TAXUMO. You may find the rest of the speakers listed here.
There will be a wide range of topics during the forum for entrepreneurs and freelancers, such as Investment in Entrepreneurial Mindset, Innovation for Social Change, Transitioning from Freelancer to a Tech Startup, Balancing Individual Preferences versus Client's Demands, and many more! It will surely be a knowledge-filled day.
One of the organizations partnered with the Entrepreneurs and Freelancers Forum 2020 is Ambidextr, a content marketing, and events management company focused on serving tech companies in the Asia Pacific.
"This event is perfect for young individuals who are looking to start their own business. Not only that, but it will also be helpful for entrepreneurs who already have their own business and want to push it further," said Joanna Viegan, a marketing associate at Ambidextr.
Tickets are sold for Php 1,500 only. To order tickets and for more information, you may contact contact@manilaworkshops.com.
P.S. Check out the Taxumo booth at EFF 2020 and get amazing discounts on our business registration service for freelancers and our subscription plans.