Planning to start a business?
The first step to being a legitimate business owner is registering your business with the BIR.
Going to the BIR for your business registration is one of those things that business owners or self-employed individuals must go through.

So why don't a lot of professionals and entrepreneurs know how to register their business with BIR?
Well, anyone who has tried knows how long, difficult, and utterly confusing the process is.
We at Taxumo understand that registration has become more difficult with Covid-19 and movement restrictions from the Community Quarantines.
Business Registration Made Easier with Taxumo
But you don't have to suffer to pursue your passion. We've got that all figured out for you!
To help your business, we have decided to reduce our prices for our Business Registration services by up to 67%.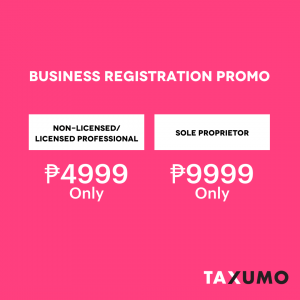 This limited-time offer will only be available until July 31, 2020. So, don't miss this chance to have our experts to take care of your business registration.
Want to know more? Visit our Business Registration page today!