Happy Hearts 💕Day! This love month, get 50% off Taxumo Consult — our 45-minute, 1-on-1 tax coaching session with our accredited tax experts — if you subscribe to a Taxumo subscription plan (available in annual and monthly payments).
From the regular rate of P1,000 per 45-minute call, our Taxumo Consult is now just P500 per 45-minutes call (or a savings of P500) starting February 14 up to February 29, 2020.
With Taxumo Consult, you can ask all your business registration, accounting or taxation-related questions from our certified public accountants (CPAs), JM Gonzales (available Mondays to Fridays, 6-9pm) or Romelle Manuel (available Mondays to Fridays from 7 pm to 10 pm and Saturdays from 2 pm to 8 pm).
How to join the Heart To Heart promo?
1. Just visit www.taxumo.com and click the "Sign Up Now" button.
2. Register with your email address.
3. Make sure to complete the company profile creation process.
4. After completing your company profile, go to the Subscription page by clicking "Subscription" on the left sidebar of your Taxumo dashboard (see screenshot below).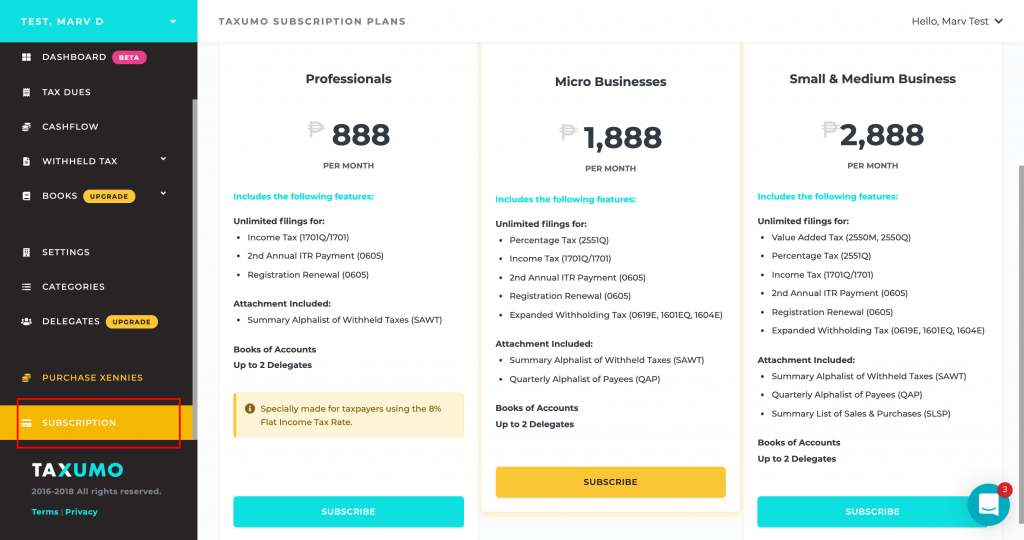 5. Select from any of the subscription plans applicable to your business by clicking the "Subscribe" button.
6. Enter your credit card details (we accept MasterCard, Visa or JCB)
7. Enter the Coupon Code heart2heart then click the "Start My Subscription" button.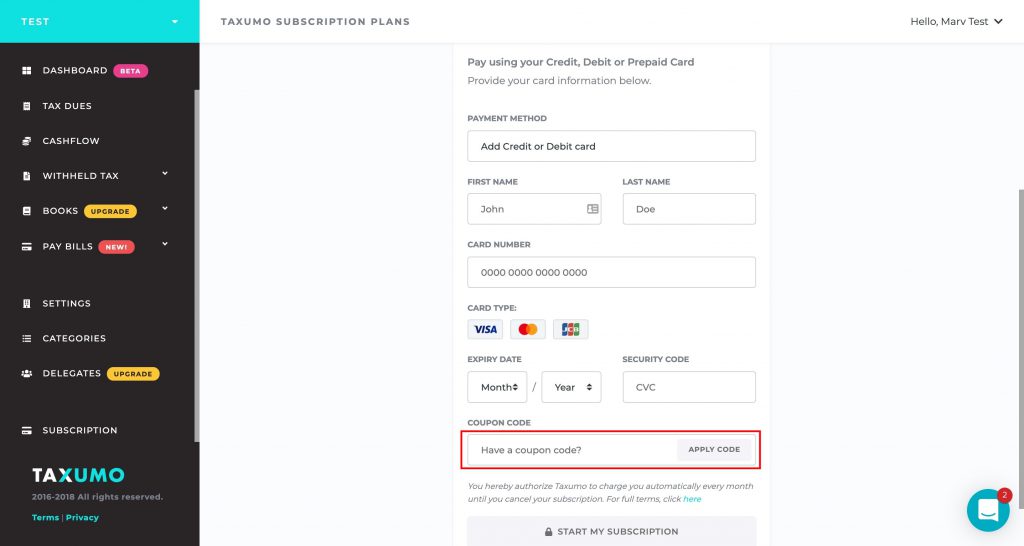 8. We will get in touch with you after the promo ends (on or before the 2nd week of March 2020) to arrange payment (50% off) and session with our Taxumo consultant.
It's that easy ❤️! Click the button below to start.

Terms and Conditions
The promo is open to new and returning paying customers of Taxumo Subscription plans (Professional, Micro Business and Small & Medium Business).
Promo period is from February 14, 2020 to February 29, 2020.
This offer cannot be availed of in conjunction with other promos of Taxumo. For any questions in relation to the promo, please contact Customer Care at customercare@taxumo.com.
P.S. Don't forget to use the coupon code heart2heart upon subscription to qualify for this promo. Join by clicking here or the button below!